More than Just a Secretary
Evie Gruenbacher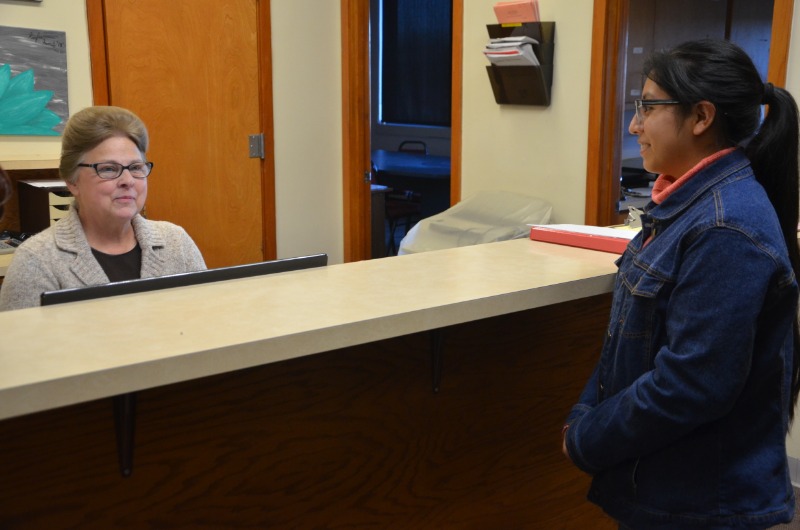 School secretaries across the nation have taken on roles in which they have an influence that allows them to make an impact on students, parents, and teachers. At Quinter High School, we pride ourselves on the fact that we have the greatest secretary there ever was, the one and only, Marsha Jamison.
"Marsha is just the absolute best, she knows everything," stated Julie Rummel.
Marsha arrives at the school at about 7:30 every morning. From there, her day consists of answering phones, letting kids in and out of the school, taking attendance, organizing paperwork, distributing money for school trips, and handling just about anything teachers, parents, or students need. Not only does she make these jobs look effortless, but she does them all with a smile. This year marks Marsha's 20th year at Quinter High School. She is also currently serving as the Northwest Kansas League Treasurer. How does she do it, one might ask?
"A great staff and a great bunch of kids, I enjoy being around all of them a lot," commented Marsha. "It's so fun to watch our kids succeed. Whether its basketball, football, forensics, or for some kids it's just the little things, I love seeing them happy."
Students in QHS all agree that Marsha is truly the glue hold QHS together.
"Without Marsha, the school probably would fall apart. She's kind to all students and parents, and she's so helpful. She works hard to handle anything that comes her way," stated Kayler Getz.
"She's pretty much everyone's second mom," added Mrs. Januarie Bridges.
We all know Marsha for her kindness and smiles, but what you might not know is that she used to ride horses in her free time. She also enjoyed working cattle and riding motorcycles.
Now, for the question everyone is wondering, how often does she answer her personal phone as 'Quinter High School, this is Marsha?'
"I do it all the time, more than I'd like to admit," Marsha commented with a smile.
Everyone at QHS can agree that our school simply wouldn't be the same without Marsha's kindness and generosity to everyone that comes through the office every day.
"I can't say enough about Marsha. I don't think people realize everything she does for our students and staff. Not only is she a great secretary, but she plays so many other roles. She does whatever it takes to make the school run smoothly. I don't know what we would do without her," stated QHS Principal Mr. Toby Countryman.